Using the map
Some of the most powerful features in Astrospheric are the map overlays. These data layers can be used to find clear locations as well as understand larger atmospheric trends happening near you. While a detailed forecast may show clear skies, it's best to check the map to look for nearby cloud patterns.
You can toggle different map layers using the controls surrounding the map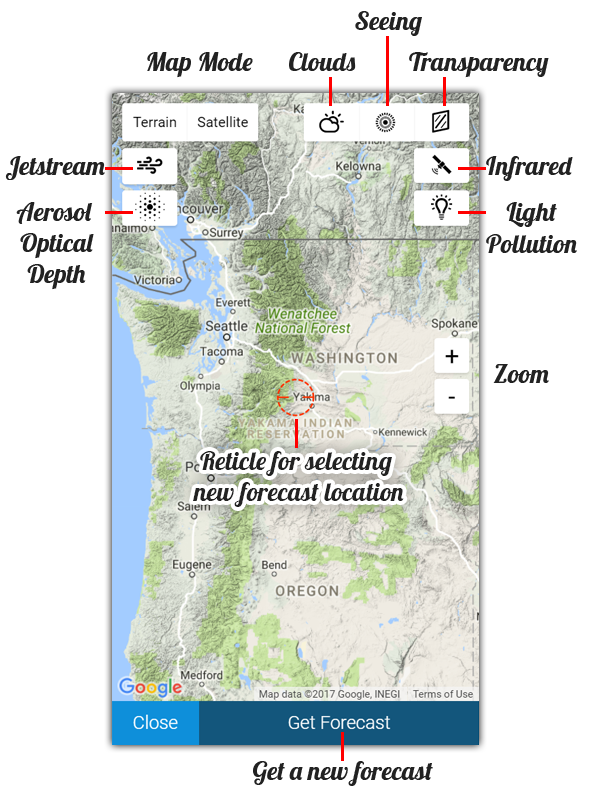 Once a map layer is turned on, the legend controls will let you scrub through the data for a particular time. Aerosol optical depth has further filter so that a specific wavelength can be viewed
Here are some tips for planning your nights
If your detailed forecast shows good conditions, check Clouds, Seeing, and Transparency overlays to ensure your location is not in small pocket of good conditions. You want to observe in larger areas of good conditions to remove variability.
The summers on the West Coast mean forest fires. Aerosol optical depth data forecasts where pollutants will be which diminish light from penetrating through the atmosphere. If the location you're observing is yellow or red, there is a good chance you'll be viewing through polluted skies and reduced transparency
Since forecasts are only updated twice a day, the Infrared data layer can help spot check where clouds actually are vs where they are forecasted. This is a good spot check to verify the accuracy of a cloud forecast.
The Jetstream data layer extends out further than the 48 hour seeing forecast. While the Jetstream isn't the only factor in seeing conditions, it is impactful. Viewing where the Jetstream is going can give you an indication of seeing conditions further out.