An Astrospheric Subscription allows you to access more advanced features on the service. You can purchase a subscription either through the iOS or Android app stores.
An Astrospheric Subscription is $0.99/Month USD before tax. Google Play and Apple App Store auto calculate the amount based on country and exchange rate. To see the amount you'll pay, you can start the purchase steps in Astrospheric then simply cancel before purchasing.
Subscriptions can only be purchased from an Android or iOS device with the latest version of Astrospheric installed.
Features that require subscription
You may cancel or renew at any time. Your preferences and settings will be saved regardless of your subscriptions state. This way, if you know you won't be observing or photographing for several months out of the year, you can cancel your subscription and renew it when you're ready.
When you purchase a subscription, the App Store on your device will take you through the purchase steps. Subscriptions are billed automatically each month until you cancel. After purchase, the price cannot be increased without your permission.
In the rare event that some issue occurs during purchase, or you switch to a new device that doesn't automatically pick up your subscription entitlement, tap the "Restore Subscription" button when attempting to use a feature which requires a subscription.
For a subscription to roam to each of your devices or a new device, you need to be logged in to Astrospheric using the same email account you originally purchased the subscription under.
If this doesn't work please contact me and we'll get things fixed up quickly.
Canceling a subscription can be done at any time from the device it was purchased on. You may cancel in the App Store on your device, or by using the "View Subscription Details" on the My Profile page in Astrospheric. Remember, subscriptions will auto-renew each month until you decide to cancel.
Please note that there are no refunds for canceled subscriptions. You will continue to have access to subscription features during the remainder of time allowed for the original subscription period after canceling. It is advisable to use Astrospheric for some time to ensure the weather model works well for your locations before purchasing a subscription.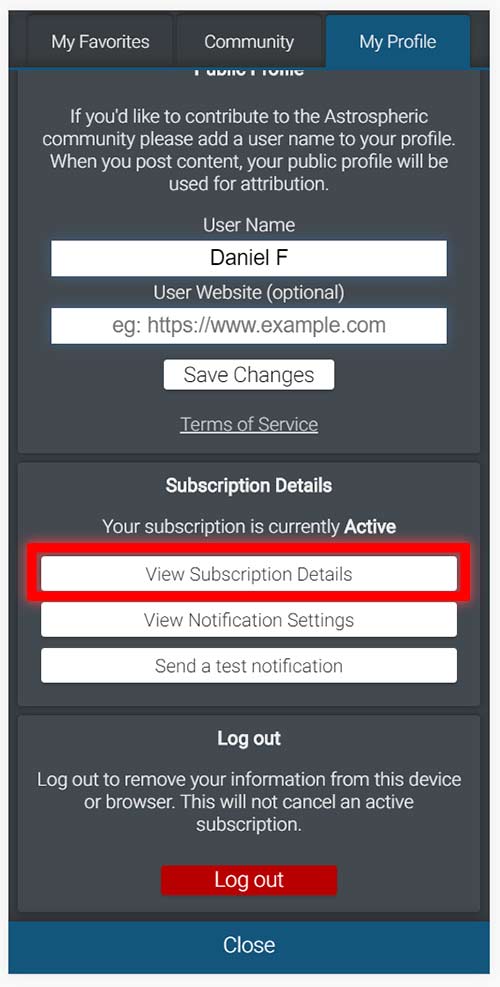 If your subscription lapses due to a payment or other issue, don't worry. All of your notification settings will be saved and available if you choose to sign up again