| | |
| --- | --- |
| | Forecast data provided by the Canadian Meteorological Centre |
| | Smoke forecast data provided by RAP model |
| | Cloud forecast data provided by NAM, RDPS, and GFS models |
| | We acknowledge the use of imagery provided by services from NASA's Global Imagery Browse Services (GIBS), part of NASA's Earth Observing System Data and Information System (EOSDIS). |
| | Ads shown on Astrospheric are a blend of sponsor created assets and affliliate links. |
Presentation, code, and assets including map overlay tiles © Astrospheric LLC. All rights reserved.
Close
Get New Forecast
Tap the map to view map layers, search for a location, and find community favorites.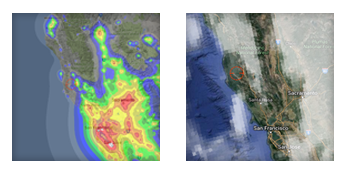 The top three rows in the forecast show the hourly sky details. The darker the blue, the better the conditions!

The sun and moon lines show rise and set times.
This is the ground forecast. Tap on the forecast to see the hour details
New Tap the search icon to quickly search for a location
Sign in to save your favorite locations, share a great spot on the map, and join the community!
Learn how to read the Ensemble cloud forecast, now with hourly updates.
Hourly updates are now in the Ensemble cloud forecast. Learn about the newly added model.
Get a 2nd (and 3rd) opinion with the Ensemble cloud forecast provided by Astrospheric Pro
Settings
Forecast
Ensemble Cloud Models
Pro
Show Smoke subcomponent when impacting Transparency
Pro
Mini-Map
RDPS Cloud
Transparency
Seeing
Wind Speed
Temperature
Dew Point
Surface Pressure
Smoke
Satellite (Vis)
Satellite (IR)
Satellite (WV)
Light Pollution
My Favorites
Community Pins
Society/Clubs